November 9, 2022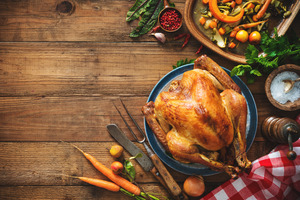 Without your teeth, you wouldn't be able to enjoy your favorite Thanksgiving foods or spend hours chatting away with your loved ones during family gatherings. You have plenty of reasons to be grateful for your smile, so why not show it by practicing good oral care on the day of the big meal? Here are 5 tips from your dentist in Chaska for protecting your dental health during Thanksgiving.
1. Floss Each Time You Eat
Do you plan on eating throughout the day on Thanksgiving? If so, you might want to carry some dental floss with you. That way, whenever you're done eating, you can remove any food that may have gotten stuck between your teeth. Keeping your smile clean can go a long way toward preventing plaque buildup.
2. Be Careful Around Sticky Sweets
Sticky, sugary foods like pecan pie can potentially be devastating for your oral health. They stay in your mouth for a long time and attract the harmful oral bacteria that cause tooth decay and gum disease. You don't have to give up sticky sweets, but you should only eat them in moderation. Furthermore, make sure you rinse out your mouth with water afterward to get rid of any sugar that might still be on your teeth.
3. Limit Starch in Favor of Protein and Vegetables
There are many common Thanksgiving foods, such as dinner rolls and stuffing, that are high in starch. Unfortunately, starch can be just as bad for your teeth as sugar since it feeds cavity-causing bacteria. So when you're putting food on your Thanksgiving plate, be careful that you aren't overloading on starch. Focus on more smile-friendly foods like turkey and cooked vegetables instead.
4. Help Yourself to Some Cranberries
The cranberries that are traditionally served with the Thanksgiving meal contain polyphenols, which are compounds found in certain plant-based foods. Polyphenols help fight harmful oral bacteria, meaning they can go a long way toward preventing tooth decay, gum disease, and other issues.
5. Don't Drink Wine After Dinner
Wine can stain your teeth, and its acidic nature means that it can significantly weaken your enamel. As such, it might be better to skip the wine after you're done eating. Water is a much better choice since it will wash away any leftover food that could contribute to tooth decay.
Keep the above tips in mind throughout the Thanksgiving festivities so that you can keep your smile in excellent shape after the celebration is over. If you have any oral health concerns before or after the big meal, reach out to your dentist to schedule a checkup; they can make sure that there aren't any problems developing in your mouth.
About the Author
Dr. Mark Stapleton earned his Doctor of Dental Surgery from the University of Minnesota School of Dentistry. Today, he has achieved Fellowship status in the Academy of General Dentistry and is fully committed to continuing his education to provide his patients with excellent, up-to-date care. At White Oak Dental in Chaska, he offers a wide range of preventive and restorative dental services. To schedule a pre- or post-Thanksgiving appointment with Dr. Stapleton, visit his website or call (952) 448-2868.
Comments Off

on 5 Ways to Take Care of Your Teeth This Thanksgiving
No Comments
No comments yet.
RSS feed for comments on this post.
Sorry, the comment form is closed at this time.