Dental Implants – Chaska, MN
Replacement Teeth That Look & Feel Completely Natural
Losing even a single tooth as an adult can be devastating. Not only can your self-confidence begin to plummet, but the way your smile functions and your overall well-being can suffer as well. For this reason, Dr. Mark Stapleton and our team at White Oak Dental strongly urge you to seek tooth replacement as soon as you can. There are multiple options, but dental implants in Chaska are the most lifelike, reliable, and long-lasting solution by far. To learn more about completing your smile with replacement teeth that look and feel completely natural, contact us today!
Why Choose White Oak Dental for Dental Implants?
Start-to-Finish Dental Implant Treatment Under One Roof
Fellow of the Academy of General Dentistry
Insurance-Friendly Dental Practice & Affordable Financing Available
What Are Dental Implants?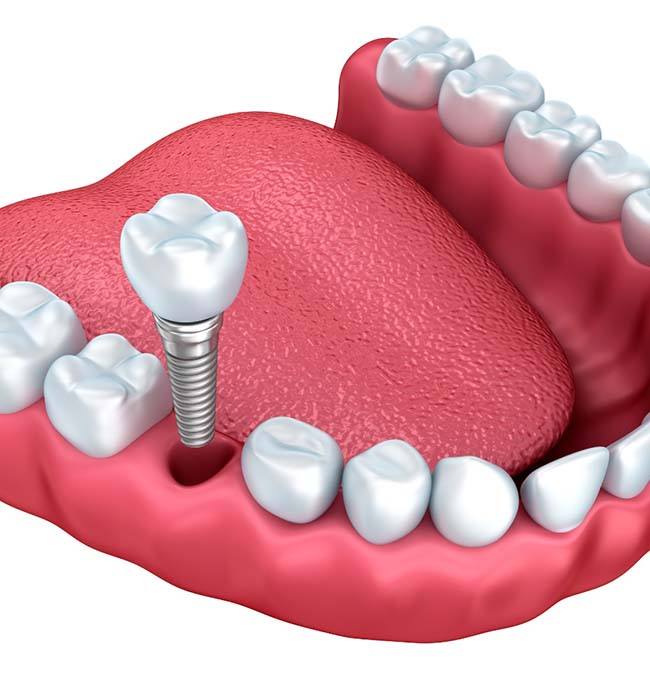 Instead of sitting on the gums or remaining teeth (like dentures and dental bridges do), dental implants recreate the root structure of the tooth that is located underneath the gumline. A dental implant is a screw-shaped titanium post that Dr. Stapleton surgically places into your jawbone to act as a new tooth root. Titanium is biocompatible, so after the implant is placed, it encourages the jawbone to grow around it over the next few months. Then, a metal abutment is attached on top of the implant, which allows us to secure a custom-made dental crown, bridge, or denture into place to complete your smile. In the end, you have a solution that mimics your natural teeth in virtually every way!
The 4-Step Dental Implant Process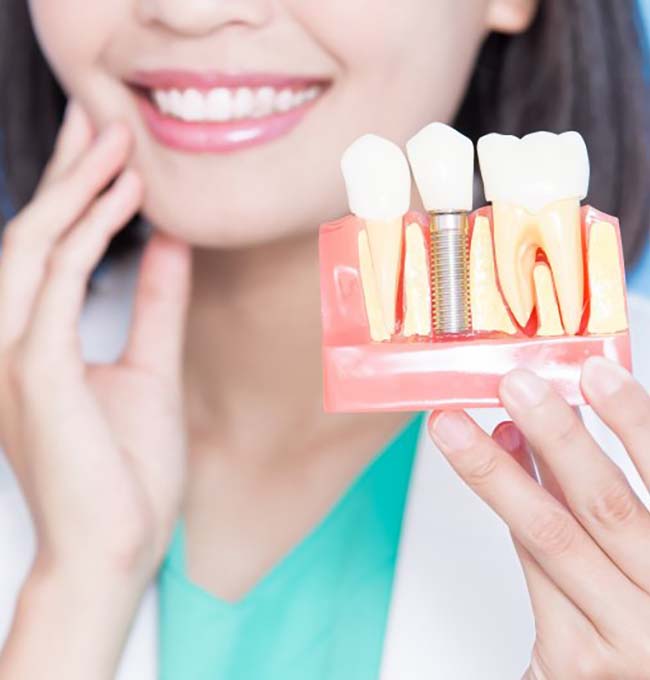 Getting dental implants takes more time than traditional tooth replacements, but since implants can last for decades with the right care, they're definitely worth waiting for! Everyone's treatment process can vary, but there are four basic steps that each patient goes through:
Consultation – You'll meet with Dr. Stapleton to discuss your smile goals and have him evaluate your mouth to determine your eligibility for dental implants.
Surgery – Rather than referring you to an outside specialist, Dr. Stapleton can conveniently perform the surgical placement of your implants right here in our office.
Osseointegration – The implants naturally merge with your jawbone over several months, creating a strong foundation.
Restorations – When your mouth is ready, Dr. Stapleton attaches your crown, bridge, or denture onto your implants.
Benefits of Dental Implants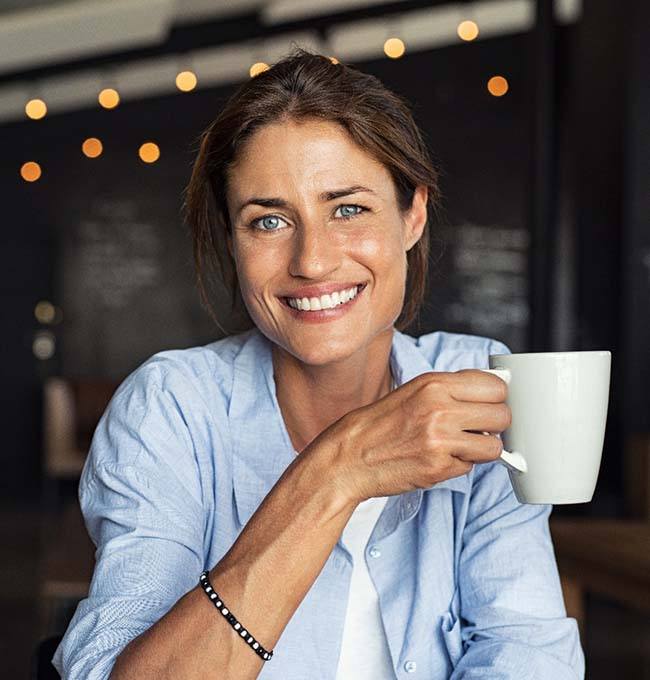 Dental implants can recreate your teeth in a virtually seamless fashion, providing valuable health and cosmetic advantages that are exceptionally long-lasting. Traditional replacement solutions like bridges and dentures only replace the crown, which is the visible portion of the tooth. While this is adequate for aesthetics and function, the lack of a functioning tooth root underneath the gum tissue can result in jawbone deterioration over time.
Additionally, dental implants are the only reconstructive option available today that successfully replicates your entire tooth structure, which is ideal for your continuing oral health and wellbeing. Also, adjacent natural teeth do not have to be modified for the treatment. Once the process is complete, dental implants are virtually indistinguishable from the rest of your smile in appearance and feel. They can potentially last for a lifetime with great home care and regular dental checkups with Dr. Stapleton.
Who Dental Implants Can Help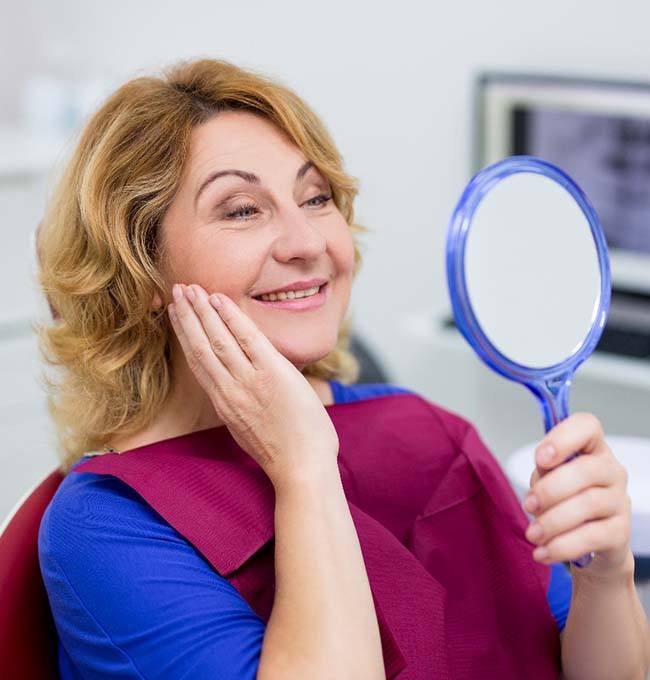 Once dental implants have been placed in the jaw and allowed to heal properly, Dr. Stapleton will work to design the ideal restoration to attach on top, restoring the patient's smile at last. Our recommendation for this process will depend on the number of teeth that are missing as well as the patient's personal preferences.
Missing One Tooth

All-ceramic dental crowns can be fitted over individual implants, restoring the shape and function of the missing tooth without requiring any alteration of the natural teeth that are still nearby.
Missing Multiple Teeth

Dental implants can anchor a bridge that is capable of replacing one or multiple adjacent missing teeth.
Missing All Teeth

A few carefully placed dental implants can support a denture, which is designed to restore an entire arch of missing teeth.
Understanding the Cost of Dental Implants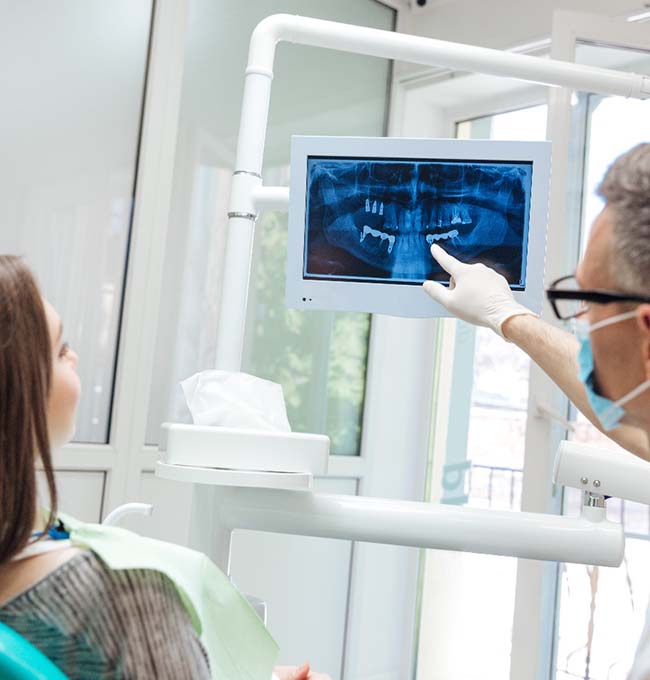 Just as each patient is unique, so are their treatment needs. For this reason, the cost of dental implants varies greatly depending on the complexity of your case, how many implants are needed to restore your smile, and which type of restorations will suit your needs. The best way to determine how much your dental implants will cost is to schedule a consultation with Dr. Stapleton to discuss your specific needs.
Types of Dental Implants

One of the main factors that influence the cost of your dental implants is the number of teeth that you're missing. Dental implants can be used to replace a single tooth, multiple teeth, or even your whole smile, and their cost can vary greatly because of it. Here are the different types of dental implants and the restorations that we use:
Single tooth – Using a custom dental crown, we can replace just one missing tooth for a complete smile.
Multiple teeth – For multiple teeth that are missing consecutively, we can use an implant-supported dental bridge to fill the gap.
All teeth – Using an implant denture, we can replace all of your teeth at once with the stability of dental implants.
Typically, the more teeth that you're missing, the more dental implants that you will need. Additionally, the type of restoration for your implants will also play a role in determining the cost of your treatment.
What Are the Stages of Dental Implant Treatment?

First, you'll come into our office for a consultation. You'll discuss your smile goals with Dr. Stapleton, and he will carefully examine the condition of your oral health, your jawbone, and how many teeth you're missing. After developing a personalized treatment plan, we will schedule your dental implant surgery.
During surgery, small incisions will be made in your gums to reveal your jawbone. Then, small holes will be created in your jaw for the placement of your dental implants. Once your implants are placed, it will take about three to six months for them to completely fuse to your bone. While this seems like a lengthy process, this osseointegration allows for a long lasting and permanent replacement.
Once your implants have healed, you'll come back into our office, where Dr. Stapleton will permanently place your restoration after making sure you're completely satisfied.
Are Dental Implants Worth the Investment?

While dental implants may tend to have a higher cost associated with them than other options, they provide unique health and lifestyle benefits that you simply can't get with other options. Unlike any other replacement, dental implants can last a lifetime with proper care, which means less money spent on replacements down the road. Additionally, dental implants stimulate the jawbone to prevent it from deteriorating after tooth loss. This will save you from the cost of treating the problems that come with jawbone resorption like misaligned teeth, drooping of gums, loss of teeth, and higher risks of tooth decay.
Does My Dental Insurance Cover Dental Implants?
Some dental insurance plans may help with the cost of dental implants. They may be able to help with the cost of certain aspects of your treatment like parts of your surgery or restoration. Our friendly and helpful team will file your insurance claims for you to maximize your benefits and minimize your out-of-pocket costs. At White Oak Dental, we take pride in providing our patients with high quality dental care that is also affordable.
Maintaining & Caring for Your Dental Implants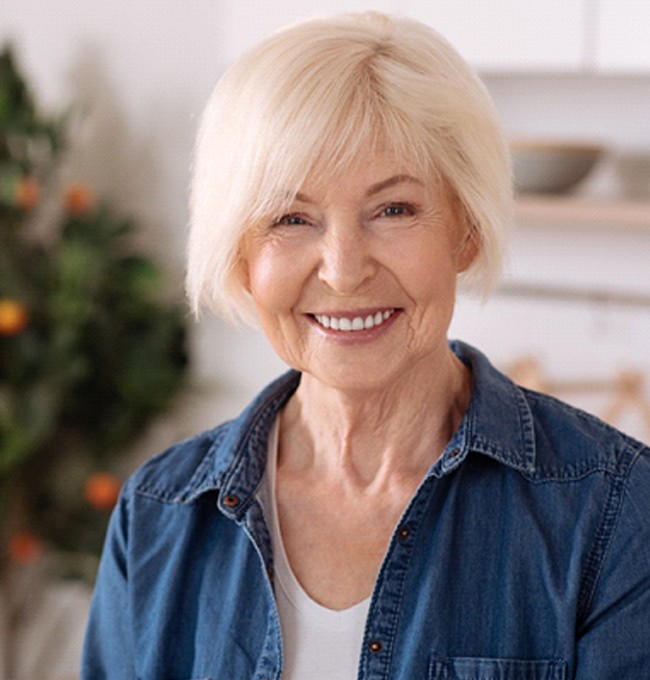 Dental implants are designed to last several decades – sometimes even a lifetime! However, that's only the case if you take proper care of them. By diligently following the aftercare instructions Dr. Stapleton provided you with, you can keep your smile safe from damage and infection. At White Oak Dental, we'll explain which precautions you should take to ensure your implants stay firmly in place for a lifetime. If you'd like to learn how to maintain your implants, continue reading or call our office today!
Make Oral Hygiene a Priority

Even though dental implants can't get cavities, that doesn't mean you can slack off on your oral hygiene. You must continue to take proper care of your teeth and gums to ward off oral health issues. That's primarily because problems like gum disease can result in dental implant failure. To keep your smile in optimal condition, make sure you're brushing twice a day, flossing daily, and rinsing with an antiseptic mouthwash.
Eat a Healthy Diet
Once you're all healed up and your implants have successfully fused with the jawbone, you can eat almost anything you want. However, make sure you avoid overindulging in hard, sticky, or sugary foods as they can cause serious issues for your implants. Instead, you should stick to a diet full of nutrient-rich foods (i.e., fruits, vegetables, whole grains, dairy products, lean proteins). Also, eating foods rich in calcium and vitamin C will help keep your jawbone strong and gum tissues healthy!
Break Bad Habits

Smoking, using tobacco products, chewing on your fingernails, biting pens or pencils, using your teeth as tools – are you guilty of any of these poor habits? If so, now's time to break them! Not only can they destroy your tooth enamel, but your dental implants as well. It's best to keep some sugar-free gum in your pocket for times when you feel tempted to gnaw on a non-food item. You can also ask a medical or dental professional for resources that will help you quit smoking and using tobacco.
Protect Your Dental Implants

Dental implants may be strong, but they're certainly not indestructible. If you regularly play sports or grind your teeth at night, you should ask Dr. Stapleton about a custom-made oral device. An athletic mouthguard can protect you against oral injuries, while a nightguard can prevent serious damage to your enamel and implants.
Schedule Regular Dental Checkups

Aside from brushing and flossing, it's incredibly important that you visit Dr. Stapleton every six months. These preventive checkups and cleanings allow him to detect, prevent, and treat oral health problems before they turn into complications. With early detection, you can avoid needing more complex and costly procedures down the line. Plus, it'll ensure your newly rebuilt smile remains in its very best shape for a lifetime!
Dental Implant FAQs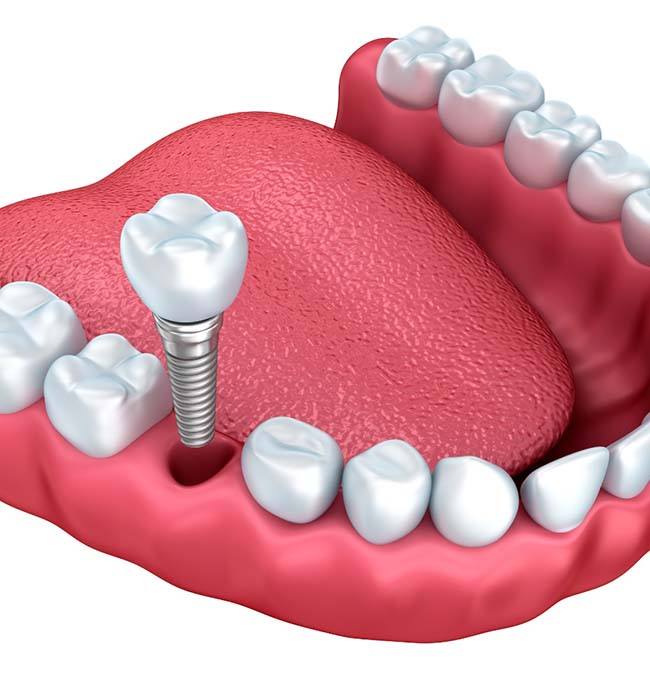 Even after reading about dental implants, you undoubtedly still have some questions. After all, dental implants involve complex procedures, and they are a huge investment. That's why it's best to be as informed as possible before beginning treatment. Fortunately, we have answered some of the most common questions we get asked about dental implants down below. If you have a dental implant question that you don't see answered here, give us a call and we'll do our utmost to answer it right away.
Can I get dental implants if I smoke?
Yes, but there are some risks involved. Complications and implant failure are much more likely to occur if you smoke or chew tobacco. This is because tobacco hinders the mouth's healing process, which is critical to the success of your dental implants. During the few months after implant placement, your jawbone actually grows around the implant post. Smoking can slow down this process and increase the chance that the implant will not fully integrate. This is why we recommend quitting smoking before getting implants placed.
Can I get dental implants if I have diabetes?
Yes, but as with smoking, it comes with some risks. Poorly controlled diabetes negatively impacts your body's ability to fight off infections. As a result, there is a higher risk of implant failure than in non-diabetics. If you're missing teeth and have diabetes, consult with your doctor before getting dental implants to further discuss the risks and how to minimize them.
Does getting dental implants hurt?
Most patients report very little discomfort during the procedure, thanks to plenty of local anesthetic and nitrous oxide sedation. In fact, many patients have preferred dental implant placement to a tooth extraction. You can expect minor swelling and soreness for a few days following the procedure, but that is completely normal for any kind of oral surgery. This can be managed by applying a cold compress to the area for ten minutes on, ten minutes off. You could also take over the counter or prescribed pain relievers. Just be sure to only take them as directed on the bottle.
Why do I need a bone graft before getting dental implants?
When you've been missing teeth for a while, your jawbone begins to shrink due to lack of stimulation from the roots of your natural teeth. When this occurs, your jawbone is typically not strong enough to support a dental implant. A bone graft is then necessary to make your jawbone able to accommodate implants. The procedure may add a few months of healing time to your dental implant journey, but it will ultimately be worth it to have a full, healthy smile once more.
How long does it take for dental implants to heal?
The healing process will be affected by a few factors, such as whether you're diabetic or a smoker. Another factor would be the current density of your jawbone, and whether you'll need a bone graft beforehand. Once you have scheduled a consultation with Dr. Stapleton, he can give you a more accurate timeframe.