Cosmetic Dentistry – Chaska, MN
You Deserve a Smile That You Feel Proud Of
When meeting someone for the first time, most people say that the smile is what they notice before anything else. Your teeth can say a lot about you. If you find yourself ducking down in the backgrounds of photos or hiding your mouth behind your hand when you speak because of frustrating dental imperfections, don't hesitate to contact White Oak Dental and schedule a cosmetic consultation with Dr. Mark Stapleton. Our team offers a variety of aesthetic-minded services that can refresh your appearance and give you back the confidence you deserve.
Why Choose White Oak Dental for Cosmetic Dentistry?
Customized , Versatile Porcelain Veneers
Experienced Cosmetic Dentist
We Care About Our Patients
Veneers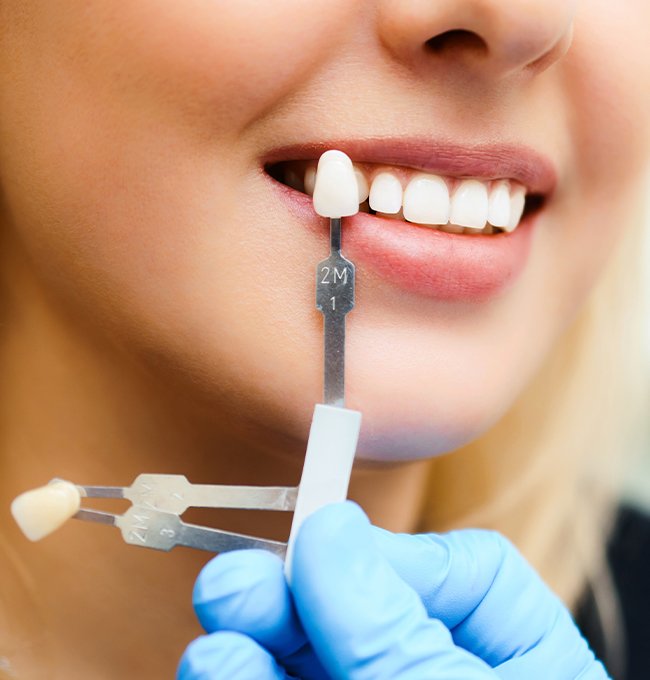 Veneers are extremely thin, customized layers of dental porcelain that are designed to cover just the front surface of your natural teeth instead of the entire tooth. This helps hide a wide variety of dental flaws, from chips to stains to gaps, behind a new, naturally beautiful appearance all at once, which is ideal for patients in need of a comprehensive transformation. Veneers are also more resistant against gradual staining than composite bonding, which means the improvements we create for you here in Chaska will last even longer.
Metal-Free Restorations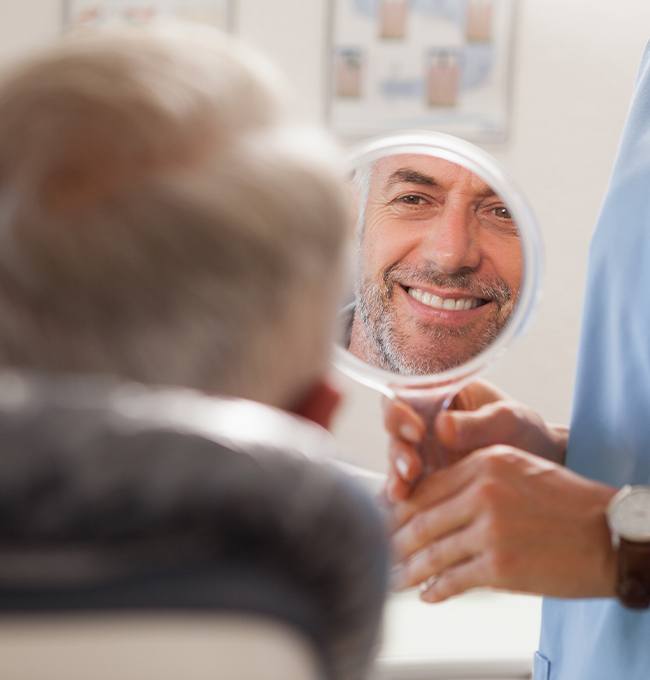 When a dental restoration is needed to correct severe decay or structural damage, patients often resign themselves to having their naturally beautiful smile marred by noticeable, dark metals. Thankfully, this kind of sacrifice isn't necessary at White Oak Dental. Dr. Stapleton primarily offers quality, metal-free restorations (including trusted brands like E-max and Empress) that are designed to blend in seamlessly with natural tooth enamel, creating an aesthetically pleasing appearance that rejuvenates oral health and strengthens oral function.
By utilizing all-ceramic materials, our team is able to provide patients with many valuable benefits when it comes to their dental care. In addition to the clear cosmetic improvement, this restorative treatment is also conservative (meaning that more remaining healthy tooth structure can typically be preserved), durable, and long-lasting. These materials are also highly biocompatible, making them much safer and more comfortable for patients who have struggled with sensitivities or allergies to common restorative metals in the past.
Direct Bonding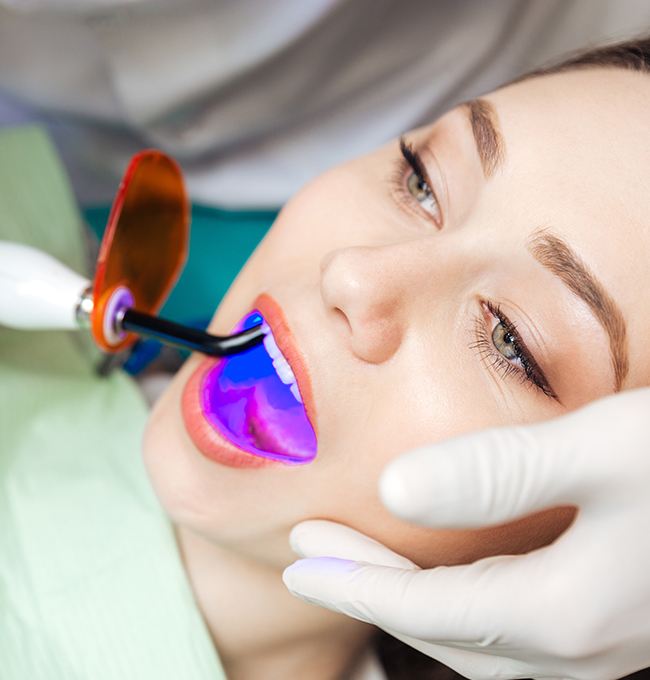 Sometimes, even the most minor flaws can dampen an otherwise healthy and confident smile. Thankfully, Dr. Stapleton offers direct bonding as a simple and effective solution to these concerns. The procedure only takes a single appointment. Our team will apply the tooth-colored composite resin to the affected tooth and precisely contour it into a pleasing addition, correcting small chips, discolorations, and even misshapen structure in a natural and aesthetically pleasing fashion.
Teeth Whitening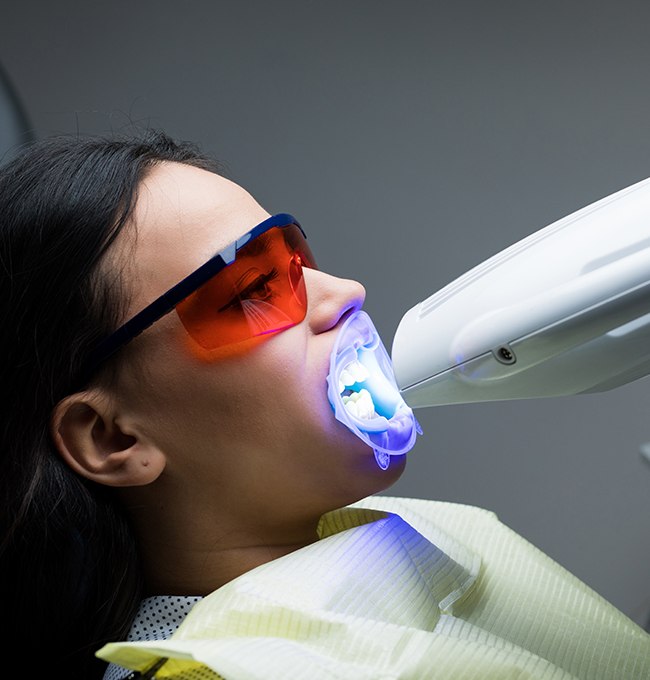 Professional teeth whitening rejuvenates discolored teeth in a way that over-the-counter products can't manage, creating dramatic improvements that patients from Victoria, MN and surrounding areas can take pride in. At White Oak Dental, we offer both in-office Zoom whitening for lightning-fast changes (perfect for patients who have a big event coming up), custom made take-home whitening trays and take-home kits that allow for greater flexibility and comfort. Dr. Stapleton will be happy to review the unique benefits of each in greater detail during your initial consultation so that you can determine the option that fits your needs best.
Learn More About Teeth Whitening
Smile Makeover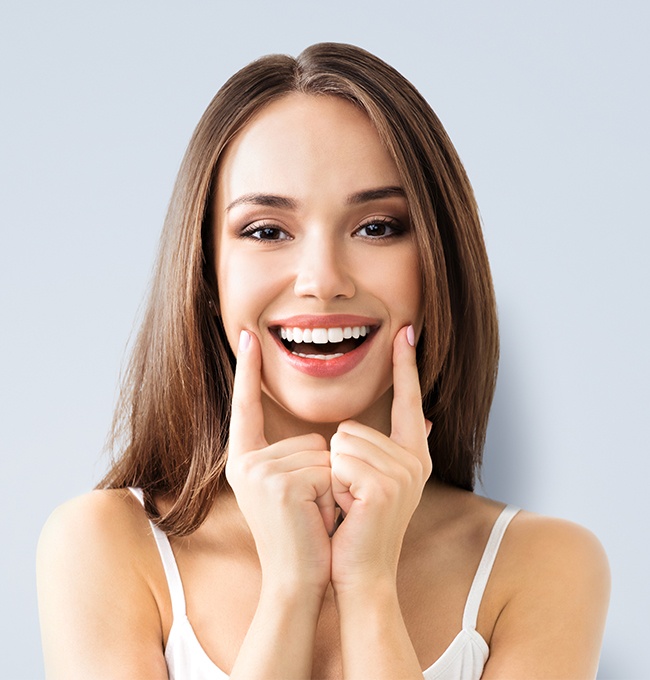 With extensive training and experience in cosmetic dentistry, Dr. Stapleton has a keen attention to detail. He knows exactly what it takes to craft a beautiful smile, and he will never pass up an opportunity to boost his patients' confidence and transform their teeth into something they're proud to show off. If you'd like to dramatically remodel your smile to make it look and feel healthier, schedule a consultation today for a complete smile makeover!