Restorative Dentistry – Chaska, MN
We Craft Beautiful, Customized Restorations That Suit Your Smile
At White Oak Dental, we will always strive to help you avoid the need for restorative care over the years, but patients can rest assured that Dr. Mark Stapleton's training and expertise will serve them well should these troubling issues arise. Over the years, our team has handled the treatment of minor cavities, extensive full-mouth rehabilitation cases, and plenty of situations that fall somewhere in between, helping struggling people of all ages regain both strong, confident smiles and a higher quality of life. Please contact our Chaska, MN office today to schedule your first appointment.
Why Choose White Oak Dental for Restorative Dentistry?
Customized, Natural-Looking Dental Crowns
Durable, Biocompatible Cavity Fillings
We Accept Dental Insurance
Dental Crowns
Dental crowns are cap-shaped structures that are made to perfectly fit over the biting surface of your teeth to provide them with protection, support, and added strength. The natural shape and color of the tooth is restored. We typically recommend this treatment for patients who have severe dental damage, like a broken tooth, or a large cavity that has left little of the natural tooth structure in-tact. When a crown is placed over these brittle teeth, you'll be able to continue using them without discomfort or needing to worry about them being damaged even more.
Learn More About Dental Crowns
Tooth-Colored Fillings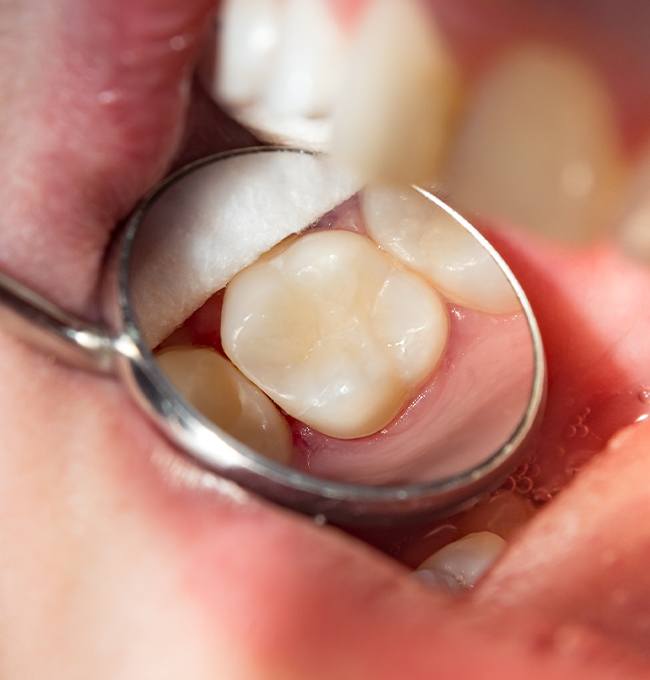 Instead of traditional amalgam (silver fillings), our team is proud to offer tooth-colored fillings as a much-improved alternative for treating cavities and small cracks and fractures. This restorative solution is composed of composite resin, which offers many shades that can be precisely matched with your natural tooth enamel. Once the material has been sculpted into place by Dr. Stapleton, it's likely that patients won't even be able to distinguish it from the rest of their smile.
Tooth-colored fillings are also much more flexible and conservative than their traditional counterparts. Because they form a direct bond to the tooth, our team is able to preserve more healthy dental structure overall, creating stronger, healthier results that will serve patients well over the years. The lack of metals also means that oral sensitivity to significant changes in temperature will be greatly reduced. In addition, the tooth will not look gray due to the show through effect of the darker amalgam. Our goal here in Chaska is to provide satisfying, long-term results that our patients can count on.