November 28, 2022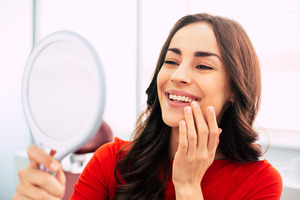 Over the years, dental implants have gotten more and more popular, with nearly 5 million new implant posts being placed each year. Part of the reason why so many patients choose dental implants is that the procedure is extremely reliable. Depending on what study you look at, the dental implant success rate is as high as 98%! What's the secret behind this success? Here are 4 key factors.
1. A Strong Jawbone
Before dental implant surgery can be performed, your dentist will need to confirm how much bone is currently present in your jaw. A certain level of bone density is required to support implant posts. Generally speaking, if a tooth has just been lost or removed, there should still be enough bone left for implant placement. Patients who have already suffered bone loss in their jaws will need to undergo bone grafting before they can be considered candidates for implants.
2. Excellent Oral Health
Any oral health issues that could compromise dental implants will need to be taken care of beforehand. In particular, gum disease is a leading cause of implant failure since it can attack the tissues holding the posts in place. As such, your dentist may recommend periodontal therapy to get your gum disease under control so that implants can be placed safely.
3. Expertise
Choosing the right dentist to place your dental implants can have a significant impact on your chances of success. While some dentists need to refer their patients to outside specialists for implant placement, others can perform the procedure in-house; the latter approach is more convenient and allows you to work with the same team throughout the entire dental implant process.
When you go to your dentist for your initial implant consultation, feel free to ask about what training and experience they have in performing implant surgery. That way, you can feel confident that you're leaving your smile in the hands of a true expert.
4. Long-Term Commitment
The kind of care you give your dental implants makes a major difference in how long they last. You need to be able to maintain excellent oral hygiene to keep the tissue holding the posts in place healthy; that means brushing and flossing at least twice a day while also keeping up with your biannual dental checkups and cleanings.
In short, the success of your dental implants largely depends on what preparations are made beforehand as well as the care they receive afterward. If you'd like to learn more about the dental implant process, talk to your dentist; they can go over each step with you and explain what measures they'll take to help your new smile last.
About the Author
Dr. Mark Stapleton has almost two decades' worth of dental experience, and roughly half of that time has been spent helping patients in Chaska enjoy healthy, functional, dazzling smiles. He has completed an Advanced Education in General Dentistry residency at the University of Florida College of Dentistry, which focused on various complex restorative procedures including dental implant placement. To schedule a consultation with Dr. Stapleton at White Oak Dental, visit his website or call (952) 448-2868.
Comments Off

on 4 Secrets Behind Successful Dental Implants
No Comments
No comments yet.
RSS feed for comments on this post.
Sorry, the comment form is closed at this time.