September 7, 2022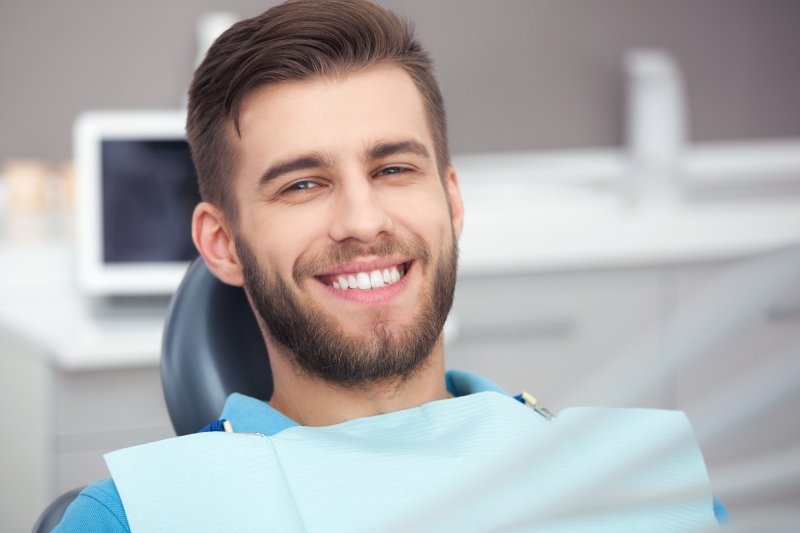 After cosmetic dentistry, patients often focus on smiling to make themselves look better. In fact, an improved appearance is usually the reason they seek treatment! However, did you know showing off pristine pearly whites can help your well-being too? It's true — the effects of a broad smile can actually boost your physical and emotional health. Your dentist in Chaska can even offer some proof. Read on to learn four health benefits that come from smiling.
It Helps You Feel Happy & Pain-Free
Apparently, smiling can make you happy even when it isn't a natural reaction. It'll still stimulate the pleasure area in your brain. That's the conclusion, anyway, of physiologist Paul Ekman, who found that students who smiled for various reasons had nearly-identical brain activity.
Showing a good smile also leads to less discomfort. After all, it releases brain chemicals like endorphins and serotonin, which are natural painkillers.
It Relieves Your Stress
Research also shows that a smile can relieve your body's stress levels. For instance, a UC Irvine study found that smiling after a stressful task causes a faster heart rate reduction. It also showed that smilers had a quicker physical recovery from stress. The study's co-author, Sarah Pressman, believes these results are due to how smiles send 'safety' signals to the brain.
It Regulates Blood Pressure
As it turns out, smiles could even work to lower your blood pressure. Along with laughter, it can do so after causing an initial increase in heart rate and breathing.
You could test this idea for yourself with a home blood pressure monitor. If you have one, sit for a few minutes and take a reading. From there, smile for a minute and take another reading while still smiling. Should you notice a difference, your smile could be reducing the pressure.
It Improves Your Immune System
Smiling can also strengthen your immune system for at least two reasons.
Firstly, researchers at Loma Linda University found that smiles increase your white blood cell count. These cells fight infection, so the result is that your teeth protect you from illness!
Secondly, smiles' stress-relief effect can, in turn, lead to improved immune function.
As you can see, cosmetic dentistry offers more than just better-looking teeth. Therefore, talk to your dentist in Chaska about treatment in the coming days!
About the Practice
White Oak Dental is based in Chaska, MN. As led by Dr. Mark Stapleton, the practice aims to provide patients with compassionate, high-quality dentistry. To that end, its staff offers preventive, cosmetic, and restorative dental treatments, including emergency procedures. Whether you need teeth cleaning, teeth whitening, or a tooth replacement, White Oak has you covered! For more information or to book an appointment, you can reach them on their website or by phone at (952)-448-2868.
Comments Off

on 4 Ways That Smiling Improves Your Health
No Comments
No comments yet.
RSS feed for comments on this post.
Sorry, the comment form is closed at this time.