August 18, 2023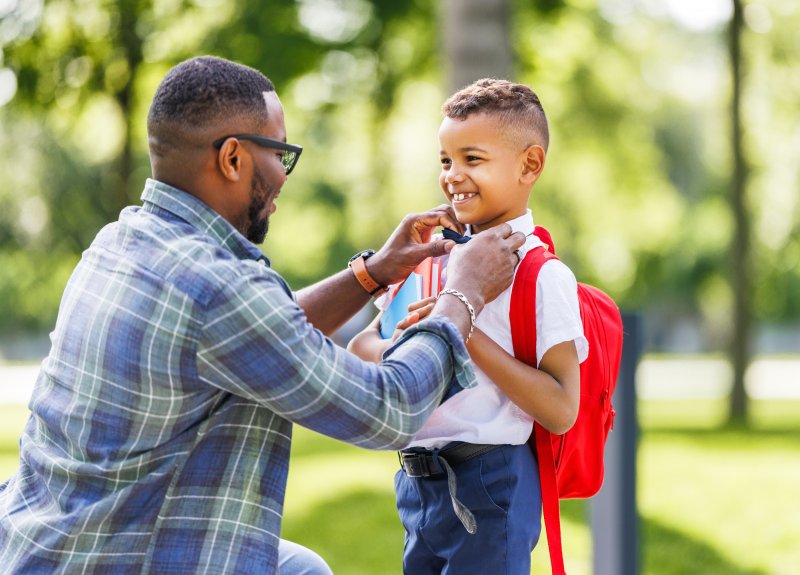 It may not feel like it yet, but summer is winding down. You're likely prepping your kids for another school year at this point. That said, you can do more than buy supplies and pack lunches. It's possible to help kids with school by improving their smiles. As for why that's the case, good oral health enhances academic success! Your local Chaska dentist can even give you the reason for this fact. That being the case, here's a summary of how a healthy mouth can lead to good schooling.
Nice Teeth = Nice Grades
You may assume teeth and schoolwork have nothing to do with each other. Truthfully, though, kids with dental issues do poorly in their classes. They don't perform as well on exams, struggle to learn, and often act out against teachers.
The reason for this situation is a lack of focus. In a 2012 study from the Journal of Pediatrics, researchers found that children with oral issues struggle to pay attention in school. As a result of said struggle, they often skip classes, don't listen to teachers, and avoid homework. Their oral issues also lower their motivation and make them unhappy.
Aid Students with Regular Dental Visits
Given the facts above, you may want your kids to see a dentist before school starts. A quick dental checkup would help them with coursework.
The fact is that regular dental visits are great at reducing oral pain. After all, they detect and fix underlying mouth problems better than you alone can. In doing so, then, they'd give your kids healthy, non-distracting smiles. You'd likely see boosts in their concentration and school performance as a result.
Helpful Oral Care Tips for Home
Even if you can't book a dental checkup for your kids, you can still help their oral care at home. To do so, just use these tips:
Focus on Oral Hygiene – If you don't already, remind your kiddos to brush their teeth twice a day. Also, instruct them to floss once daily if any two of their teeth are touching.
Reduce Sugar Intake – It's a good idea to lower your child's intake of sugary treats. These foods can cause tooth decay, so only allow a little during mealtimes.
Get More Involved as a Parent – Try reading books to your child about oral health habits. That way, you can emphasize why they should care for their teeth.
Oral health enhances academic success, so don't let your child start school with a crummy smile. Instead, ensure they enter the fall semester with healthy teeth and gums!
About the Practice
White Oak Dental is based in Chaska, MN. Led by Dr. Mark Stapleton, our practice always gives its patients pretty and healthy smiles! To that end, we perform preventive, cosmetic, and restorative treatments, as well as emergency services like root canals and tooth extractions. This setup allows us to meet your every oral care need, all under one roof. For more information or to book a visit, you can reach us on our website or by phone at (952)-448-2868.
Comments Off

on Help a Child Succeed in School with Good Oral Health
No Comments
No comments yet.
RSS feed for comments on this post.
Sorry, the comment form is closed at this time.