June 15, 2023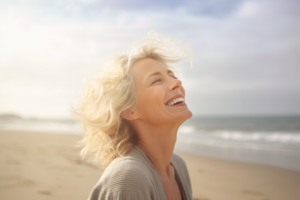 Summer is finally in full swing—get ready for warmer weather, poolside shenanigans, and the possibility of travel! However, no matter where you're going or what you're doing this summer vacation, one thing you absolutely shouldn't do is take a break from caring for your pearly whites; the consequences of not doing so might spoil your fun! Here are some useful tips from your dentist that'll help you and your loved ones maintain healthy and bright smiles all summer long, so you can focus on enjoying yourselves!
Tip #1. Drink Enough Water
You probably already know that water is the best beverage you could possibly drink—it benefits your body in many ways, keeps you cool and hydrated, and is quite refreshing in general! But concerning your oral health, it stimulates your saliva flow which assists with cavity prevention. Tap water also often has fluoride added to it, which is a naturally occurring mineral with beneficial properties for your enamel.
Tip #2. Mind Your Diet
Summertime is notorious for being the perfect time to enjoy all sorts of cool sweets and frozen treats—and there's perhaps no better way to beat the heat! But as refreshing as that tall glass of lemonade or ice-cold Coca-Cola might sound, these types of items can be harmful to your smile if consumed in excess. They're often high in sugars and acids that contribute to enamel erosion and decay, in addition to having the potential to stain your teeth. Try to opt for healthier choices when possible: fruits and veggies, yogurt, cheese, and more are all excellent choices.
Tip #3. Travel with a Dental Kit
If you're planning to travel, you should consider packing and bringing a dental kit with you so that you can adequately care for your smile away from home. This doesn't have to be anything fancy, but it should at least include the essentials: a travel-sized toothbrush, toothpaste, mouthwash, dental floss, and anything else you'll need to maintain your dental health on the go. If you have oral appliances such as braces, you can include items that specifically assist with discomfort, including painkillers and orthodontic wax.
Tip #4. Schedule a Dental Checkup
While it's important to take care of your smile at home, it doesn't fall entirely on you—your dentist is there to help! Since you should be seeing them twice a year anyway for preventive care, scheduling a summer visit, right in the middle of the calendar year, is a wise move. These appointments allow your provider to inspect your smile and ensure that it's problem-free and clean heading into the summer, meaning you're much less likely to experience a dental emergency—and much more likely to show off your smile every time someone pulls out their camera for a photo op.
By following these tips, you're ensuring that no matter where you go or what you do this summer, you'll be smiling brightly the whole time! Don't hesitate to contact your dentist if you have any questions about how to take care of your teeth while you're traveling.
About the Author
Dr. Mark Stapleton and his talented team at White Oak Dental have proudly served patients and families in the Chaska, MN community for several years. Dr. Stapleton received his DDS from the University of Minnesota School of Dentistry and is a Fellow of the Academy of General Dentistry, demonstrating his commitment to providing excellent dental care! His practice is excited to offer a wide range of services, including various preventive, cosmetic, and restorative options. To request additional information or schedule an appointment, feel free to contact Dr. Stapleton through his practice's website or over the telephone: (952) 448-2868.
Comments Off

on 4 Useful Oral Health Tips for Summer Vacation
No Comments
No comments yet.
RSS feed for comments on this post.
Sorry, the comment form is closed at this time.