January 2, 2023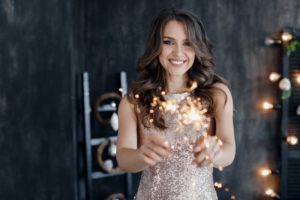 As the new year approaches, it's always beneficial to reflect on ways to improve your health so you can live your best life. While you may often just think about diet and exercise when it comes to your well-being, your dental health is also incredibly vital! By committing yourself to better oral hygiene habits, you can create a healthy, radiant grin, as well as improve your overall physical condition. Here are three easy resolutions to get your best smile in the upcoming year.
3 Easy Resolutions for Your Best Smile!
Now is the perfect time to start new habits that will improve your oral health for the new year, such as:
Replace your toothbrush every three months – As recommended by the American Dental Association, replacing your toothbrush (or toothbrush head, for electric alternatives) every three months is essential to keeping your mouth healthy. Over time, the bristles become frayed and collect food particles, plaque, and bacteria, which can harm your pearly whites. Replacing your toothbrush is an easy way to care for your teeth. You can always buy toothbrushes in bulk for easy and quick replacement.
Floss, floss, floss! – Flossing removes food particles, bacteria, and plaque that get stuck between your teeth that brushing alone won't reach. It also stimulates your gums and helps prevent disease. You can carry packs of travel-size floss with you so flossing can become a part of your daily routine. A fun alternative to regular floss is a water flosser. The American Dental Association has given it a seal of acceptance and states that its pressurized stream of water can effectively clean your gums, too. To make it more of a consistent habit, you can set an alarm on your phone or set up a daily text to remind you and keep you on track!
Set your dental appointments early in the year – It is recommended to visit your dentist twice a year. Not only do your teeth get a thorough cleaning, but they can detect any issues before they become more serious. Your dental team can also provide tips and advice on how to best maintain your oral health at home. You can set your biannual appointments early in the year as a perfect way to be proactive about keeping your smile in great condition all year long! If you don't have a certain dentist, now is the time to look for a permanent place to care for your pearly whites. Many dental practices are ready to accept new patients at the beginning of the year!
The Benefits of Improved Dental Habits
Having healthy teeth and gums not only keeps your smile looking beautiful but also protects your overall health since unchecked tooth decay and plaque are correlated with an increased risk for cardiovascular disease. Taking proper care of your mouth can also help improve your well-being by reducing stress, increasing self-confidence, and even boosting your immune system.
By sticking with these easy resolutions to improve your oral health, you can start the new year off right and be on your way to a healthier, brighter smile all throughout 2023!
About the Author
Dr. Mark Stapleton and his team at White Oak Dental are eager to keep your smile whole and healthy all year long! He earned his Doctor of Dental Surgery at the University of Minnesota School of Dentistry. He also completed an Advanced Education in General Dentistry (AEGD) residency at the University of Florida College of Dentistry. He provides a full range of dental services, from preventive to emergency care. To schedule an appointment, contact him through his website or call (952) 448-2868.
Comments Off

on New Year, New You! 3 Resolutions for an Improved Smile in 2023
No Comments
No comments yet.
RSS feed for comments on this post.
Sorry, the comment form is closed at this time.