August 9, 2022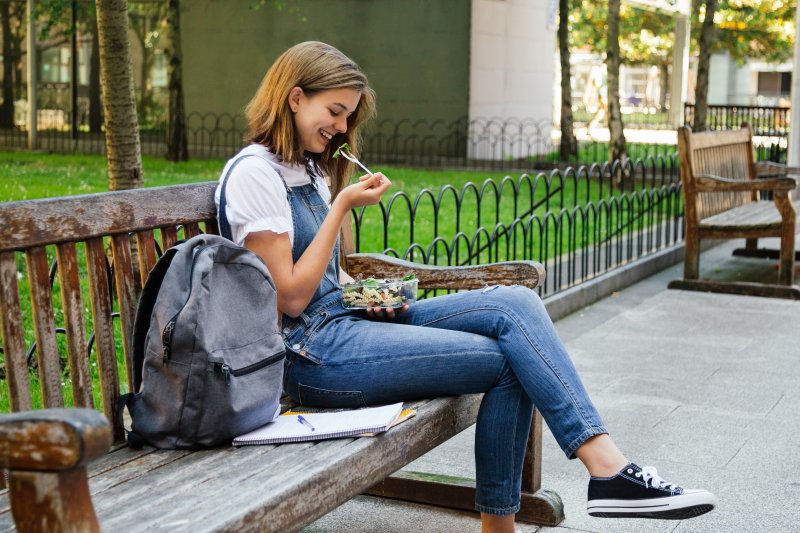 It's easy to get lost amidst the hustle and bustle of the school year. However, there's one thing you should avoid putting on the back burner no matter what – your oral health. While preparing for your return to the classroom, don't forget to remain consistent with your oral care. To help you out, we've compiled a few back-to-school tips to help you maintain a healthy smile and pass your next dental exam with flying colors!
Maintain a Healthy Diet
Believe it or not, your diet has a significant impact on your oral health. Overindulging in sugary, starchy, and acidic foods can wreak havoc on your smile. Even though snacks like crackers, cookies, and granola bars are easy to stash in your backpack, the added sugars can increase your risk of several oral health problems. Instead, you should pack tooth-friendly options like nuts, cheese, and plain yogurt!
Stay Hydrated
Water is truly one of the best drinks for your oral and overall health. That's why it's a good idea to carry a refillable water bottle around and keep it with you at all times. It's perfect for rinsing leftover food particles and unwanted debris from your mouth. Drinking plenty of water will help lower your risk of cavities, decay, and infection.
Chew Sugar-Free Gum
After eating lunch, you should consider chewing sugar-free gum. It'll help stimulate the production of saliva, which is a natural cleansing agent your mouth produces. The substance washes away residual food and its byproducts. Not only will sugar-free gum help clear the mouth of leftover food, but it'll even freshen your breath!
Establish an Oral Hygiene Routine
Having a daily routine comes with several incredible benefits. It can lower anxiety, reduce stress, and encourage healthy habits. That said, you should make sure you're brushing and flossing your teeth at the same time every day until it becomes second nature. If you need help staying on track, set reminders on your phone to clean your teeth every morning before school and each night right before bed.
Visit Your Dentist
Everyone should visit their dentist every six months for a checkup and cleaning. These routine appointments are essential for spotting and treating problems before they turn into painful complications. Because most dental offices are busiest at the beginning of the school year, you can save yourself some trouble by scheduling your appointment when healthcare policies renew, which is usually December and January.
Before your upcoming dental exam, review the tips outlined above. Following them will help you make your next checkup a breeze!
About the Practice
At White Oak Dental, we're dedicated to helping patients achieve and maintain their very best smiles. Our team uses the latest technologies, techniques, and materials to ensure you get the quality service you deserve. For more back-to-school oral hygiene tips, visit our website or call (952) 448-2868.
Comments Off

on Back-to-School Tips: How to Ace Your Next Dental Exam
No Comments
No comments yet.
RSS feed for comments on this post.
Sorry, the comment form is closed at this time.