March 25, 2022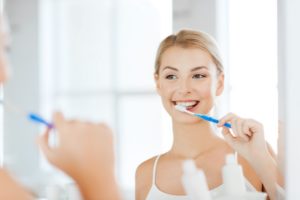 Spring is in the air, which means you've opened the windows and you're ready to deep clean your home. As you go through your closets and cabinets to purge your home of old or expired items, don't forget to check your oral hygiene products. Your dentist in Chaska has 4 tips to give your teeth the spring cleaning they deserve. 
1. Change Your Toothbrush
Do you remember the last time you changed your toothbrush? If it hasn't been within the last 3-4 months, you are going to need a new one; however, don't want to choose just any toothbrush. Look for one that has earned the ADA's Seal of Acceptance, which means it has undergone voluntary testing for safety and effectiveness. When making your selection, choose one that has soft bristles to prevent gum recession and enamel erosion.
2. Throw Out Expired Products
You don't eat expired food because it can be harmful to your health. Dental products aren't any different. Their effectiveness and safety can be compromised if used beyond their expiration date. As you clean out your bathroom, go through your oral hygiene products to check their dates, including mouthwashes, toothpaste, and floss.
3. Schedule a Cleaning and Checkup
The American Dental Association recommends a cleaning and checkup every 6 months, even if you don't have any dental concerns. Your toothbrush and floss can't clean everywhere in your mouth. As a result, plaque and tartar can accumulate in hard-to-reach areas, which can lead to tooth decay and gum disease. Professional teeth cleaning will remove the buildup to keep your teeth and gums healthy. You'll invest in reduced dental expenses down the road by preventing the need for a costly treatment.
Your dentist will also examine your mouth to look for any concerns, like a cavity or gingivitis. They'll address the issue quickly to prevent it from turning into a dental emergency. You'll ensure your smile is clean and healthy, so there aren't any interruptions in your upcoming summer plans.
4. Clean Your Toothbrush Holder
You know certain areas of your home are a hotspot for germs, like your TV remote, light switches, or doorknobs. You may not expect your toothbrush holder to be one of the germiest items in your home. With every flush, your toothbrush and the holder are exposed to microorganisms. It's important to clean your toothbrush holder regularly to ensure germs don't transfer to your toothbrush.
Spring Clean Your Smile
Although you have a long to-do list, make sure your oral health is a priority. You'll enjoy a beautiful smile you'll be proud to share with others.
About Dr. Mark Stapleton
Dr. Stapleton earned his dental degree from the University of Minnesota School of Dentistry and completed advanced training in complex restorative procedures and cosmetic dentistry. He focuses on prevention to preserve his patients' natural smiles. If it has been over 6 months since your last appointment, contact our office today to schedule your cleaning and checkup.
Comments Off

on 4 Tips to Spring Clean Your Smile
No Comments
No comments yet.
RSS feed for comments on this post.
Sorry, the comment form is closed at this time.