December 4, 2021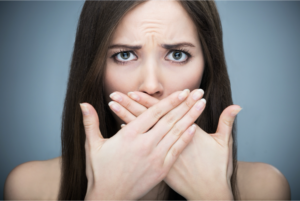 It's date night and you're about to walk out the door, but yikes! You just exhaled and caught a whiff of bad breath. You brushed your teeth and haven't eaten in the last few hours, so what is going on? Never fear: outlined by a dentist in Chaska, here are some of the reasons you may experience bad breath, as well as how to alleviate it.  
What Causes Bad Breath?
Typically, halitosis, commonly known as bad breath, is triggered by at least one of four factors.
Dental Hygiene—If your daily oral care routine is less than stellar, this could result in a buildup of plaque around your teeth or gums, which can lead to a bad smell. 
Smoking—If you have a smoking habit, this may affect the moisture and bacteria levels within your mouth, also resulting in smelly breath.
Food—As your body processes certain foods, any strong odors associated with them will enter your bloodstream and will eventually be released by your lungs. Spiced meats, garlic, cheese, and other foods may result in bad breath for up to 2–3 days after consumption.
Chronic Illness—The final cause may be trickier to identify off the bat. If you suffer from an underlying issue such as diabetes or even strong seasonal allergies, these ailments may contribute to bad breath for various reasons often related to the contents of your saliva.  
Stopping Bad Breath in Its Tracks
If you can already identify the likely cause of your bad breath, there are a few strategies you can adopt to ensure that your breath remains clean and fresh in the future. Consider the following ideas:
Brush Better—Replace your toothbrush every 3 months and brush for a total of 2 minutes twice a day. Also, make sure to clean your tongue and floss your teeth too!
Watch Your Food & Drinks— Avoid most cheese and meat products that are particularly smelly before an upcoming social event. Also, make sure that you drink plenty of water to keep your mouth moist in your bacteria levels normal. Eating fresh fruits and veggies can sometimes reduce plaque that may be causing odors.
Improve Your Habits— Limit alcohol consumption and quit smoking tobacco to reduce bacteria.
When to See a Dentist About It
If you're unsure about what is causing your bad breath or would like an action plan to ward off several of the causes, seeing your local dentist in Chaska for advice can help immensely. Your breath's odor may be the result of some more serious oral health problems such as tooth decay, gum disease, or long-term plaque buildup. All three of these issues can be addressed by your dentist, restoring your healthy smile and fresh breath after treatment. 
Your bad breath doesn't have to last forever. Once you identify the cause and create a treatment plan or strategy, you can restore the freshness of your breath at last.
About the Author
Dr. Mark Stapleton is a top-rated general dentist serving the Chaska, MN community. From addressing bad breath to filling gaps within their smiles, Dr. Stapleton is committed to helping his patients achieve optimal oral health. If you have questions about the best way to address your bad breath, Dr. Stapleton is eager to offer his advice and expertise. Feel free to contact his practice, White Oak Dental, at (952) 448-2868 or through their website.
Comments Off

on Kiss Bad Breath Goodbye: Causes and Solutions 
No Comments
No comments yet.
RSS feed for comments on this post.
Sorry, the comment form is closed at this time.