December 7, 2019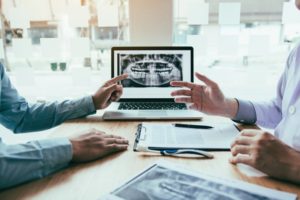 Have you ever been surprised by what your dentist finds during your regular dental checkup? Maybe it was a cavity that hadn't started to hurt yet or a cracked tooth that you couldn't see. But did you know your dentist can also find signs of underlying systemic diseases like heart disease, diabetes, or Alzheimer's disease, just by looking at your mouth? There's an important connection between your oral health and general health, and researchers are finding that an unhealthy mouth can have a profound impact on your overall wellbeing. Learn how poor oral healthcare can lead to serious systemic diseases and how regular dental checkups could even save your life!
Connecting Your Oral and Overall Health
The microbiome of your mouth is naturally full of bacteria. Habits like brushing and flossing keep their growth in check to protect your mouth. But without proper oral hygiene, the bacteria quickly build up and infects your mouth, causing tooth decay and gum disease. In response, your immune system sets off an inflammatory reaction.  
Studies find that those who suffer from oral infections like gum disease are 40% more likely to have other chronic health conditions. Researchers believe that the two main culprits that link oral infections to these other health issues are inflammation and bacteria. A prolonged immune response to oral infections causes chronic inflammation throughout your body, which can lead to serious systemic diseases like cancer and arthritis. Alongside the inflammatory response, the dangerous bacteria at the root of oral infections can escape into your bloodstream and damage other systems in your body, like your heart and brain.
Overall Health Issues Linked to Oral Health
There have been countless studies on the connection between oral and overall health. Poor oral hygiene has been thoroughly linked to systemic diseases like:
Heart disease. Although it's not fully understood, those who suffer from gum disease are at a much higher risk of heart disease, possibly due to clogged arteries from inflammation and bacteria.
Diabetes. A reduced immune system from diabetes increases susceptibility to infection. An oral infection can trigger a rise in blood sugar, making diabetes more difficult to control.
Alzheimer's disease. Certain strains ofdangerous oralbacteria can sometimes travel to the brain. Once there, they can damage nerve cells and cause memory loss, eventually leading to Alzheimer's disease.
How Can Regular Dental Checkups Help?
Just like a cavity, early detection of these threats to your overall health is the best means of treatment and prevention. According to the 2000 US Surgeon General's report, nearly 90% of systemic diseases can be spotted through an oral examination, and many can be at least partially treated with good oral healthcare. Biannual deep cleanings, fluoride treatments, and sealants will prevent the buildup of dangerous bacteria, and regular examinations allow your dentist to catch any issues as early as possible. Maintaining routine dental checkups may save your life one day!
Reduce your risk of serious overall health issues with a healthy smile! Taking care of your oral health with great habits and regular dental checkups can prevent serious systemic diseases before they cause major damage.
About the Author
Dr. Mark M. Stapleton is a preventive, restorative, and cosmetic dentist in Chaska, MN at White Oak Dental. He is a graduate of the University of Minnesota School of Dentistry and an alumnus of the world-renowned Dawson Academy. He is enthusiastic about offering a variety of preventive services like periodontal therapy to help his patients maintain a happy smile and a healthy life. He can be reached at his website or at (952) 448-2868.
Comments Off

on Oral Health VS Overall Health: How Are They Connected?
No Comments
No comments yet.
RSS feed for comments on this post.
Sorry, the comment form is closed at this time.