August 29, 2018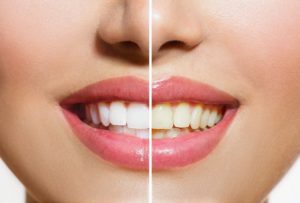 Everyone wants a white smile but how do you know which method of whitening is the best? It seems like there's a new whitening tip on the internet each day. Before wasting your time and money on a whitening treatment that isn't backed by science, read on below to learn about teeth whitening myths, whether there's any truth to them, and how you can achieve the bright white smile of your dreams from a cosmetic dentist in Chaska.
What is Teeth Whitening?
Whitening is one of the most popular cosmetic dental procedures because it can easily improve how your teeth look. Over time, your teeth will begin to stain, or you will see discoloration. That's when teeth whitening comes into play!
Brightening your smile can be done in the dentist's office or at home. If your whitening treatment is in the office, your dentist will put gel on your teeth which they can activate using a specialized light or laser to bleach the teeth faster. This is the most effective way of lightening the tooth enamel.
For convenience's sake, you can also whiten your teeth at home. If you choose this option, your dentist will make a custom oral tray where you will put the whitening gel, and you are typically instructed to wear both a few hours a day. In addition, there are over-the-counter whiteners you can buy, but they will not be as effective as the whitening agent you would get from the dentist.
Before starting your teeth whitening, you should familiarize yourself with some of the myths surrounding the treatment.
Myth #1: Whitening is Harmful to My Teeth
This is possibly the biggest myth surrounding teeth whitening. Many studies have proven that whitening today does not damage your teeth and a lot of dentists have switched to products with natural whitening ingredients like coconut oil. This means a lot less bleach, which eliminates any safety concerns you may have.
Myth #2: Whitening Lasts Forever
Once your teeth are whitened you must practice good oral health care and complete a whitening treatment every few months or when you see discoloration. If you drink things like red wine or coffee, your whitening may not last as long as you'd hoped. Receiving whitening from your dentist rather than from an over-the-counter product will ensure the whitening is sustainable until your next treatment. Your dentist can also provide touch-up kits that patients can take home following in-office whitening, so they can brighten up their smile as soon as they notice discoloration coming back.
Myth #3: Fruits Can Remove Tooth Stains
There are many at-home remedies for whitening that people have shared on the internet, but that doesn't mean they're accurate. The most common at-home whitening myth is that rubbing fruit on your teeth can remove stains. Although this might work for some, it is more harmful than helpful. Fruit acids can seriously damage your teeth as it can eat away at enamel and even cause yellowing in the teeth.
Myth #4: Teeth Whitening is for Everyone
Although everyone wants a white smile, that doesn't mean that whitening is safe for everyone. It is possible to whiten children's teeth, but it is not recommended. When considering whitening treatment for your child, make sure they have lost all their baby teeth, all adult teeth are in place, and orthodontic treatments are complete. In addition to young children, pregnant or lactating women should not receive this treatment.
Teeth whitening can be an easy way to cosmetically make your smile look great. Next time you think about whitening, consider that some tips you see online or hear from your friends may not have any science to back up the claims being made. It is best to talk to your trusted dentist to discuss which whitening option is best for you.
About The Dentist
Dr. Stapleton was born and raised in Minnesota, and he currently practices at White Oak Dental in Chaska. He stays up to date on the latest dental practices through memberships in the American Dental Association and Minnesota Dental Association. He is ready to help your confidence with a whiter and brighter smile. If you have any questions, he can be contacted by phone at (952) 448-2868.
Comments Off

on The Truth About Teeth Whitening from a Cosmetic Dentist in Chaska
No Comments
No comments yet.
RSS feed for comments on this post.
Sorry, the comment form is closed at this time.