April 28, 2017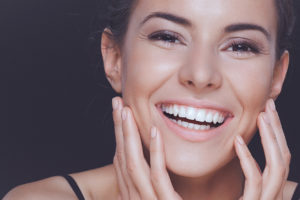 Many patients start seeking cosmetic procedures during spring to improve how they look and feel during the summer season. That's understandable. No one wants to tan and then smile to find their teeth match the same tone as their golden skin. White Oak Dental understands that a beautiful smile holds power. That's why we offer both in-office and at-home professional teeth whitening in Chaska for our local patients. Brightening your teeth has never been so easy!
What are the benefits of getting teeth whitening from a professional?
Every time you smile, you may be tempted to go to the nearest drugstore and buy the cheapest whitening kit, but what good is that really going to do you? Does drugstore quality bleaching even sound like it's going to help you achieve the results you want? Did you know you could be risking the health of your teeth by trying to take a cheaper, "quicker" shortcut to a better smile? Here's why you should choose to get your teeth whitening by a professional rather than purchasing an over-the-counter product.
Your safety is our priority and we will customize your treatment to make it effective and comfortable.
Our product ensures the dazzling results you want.
You don't have to worry about making a mess or bleaching things at home.
Get the results you want in as quick as one office visit.
Your whitening results will last much longer than a generalized over-the-counter whitening treatment.
In-Office Teeth Whitening
The best way remove stains on your teeth is with Zoom! teeth whitening treatments offered by your cosmetic dentist in Chaska. The whole process is safely regulated by Dr. Mark M. Stapleton. This way, your procedure is not only safely executed, but you're able to communicate about the results you'll witness all during your appointment.
After applying a thin coat of bleaching gel to the tops of your teeth, Dr. Stapleton will apply low-heat light to accelerate the process. Each treatment is about 15 minutes long. We can repeat the process in intervals until we've reached your smile goals. You will have a dazzling smile in just one visit!
At-Home Teeth Whitening
White Oak Dental can appreciate a single aspect of over-the-counter products: being able to whiten your teeth in the comfort of your own home. Fortunately for our patients, we also offer at-home teeth whitening treatments!
Your dentist will fit you for custom bleaching trays that precisely fit your individual teeth, reducing the risk of you bleaching items and clothing at your house. You will also receive a supply of doctors prescribed whitening gel. All you have to do is follow Dr. Stapleton's detailed instructions and you'll have a stunning new smile in just a few weeks.
Maintain Your Bright, New Smile
Both you and our White Oak Dental office want you to keep your teeth white—especially since you invested time and money into reaching your smile goals. You must take excellent care of your teeth at home from this point on along with visiting our Chaska office for professional cleanings. You should be brushing and flossing your teeth twice a day with a toothpaste that protects against yellowing. Also, we wouldn't recommend eating or drinking dark colored foods or drinks regularly.
Contact our office today to schedule an appointment to meet with Dr. Stapleton and discuss improving your smile!
No Comments »
No comments yet.
RSS feed for comments on this post.
Leave a comment