June 6, 2022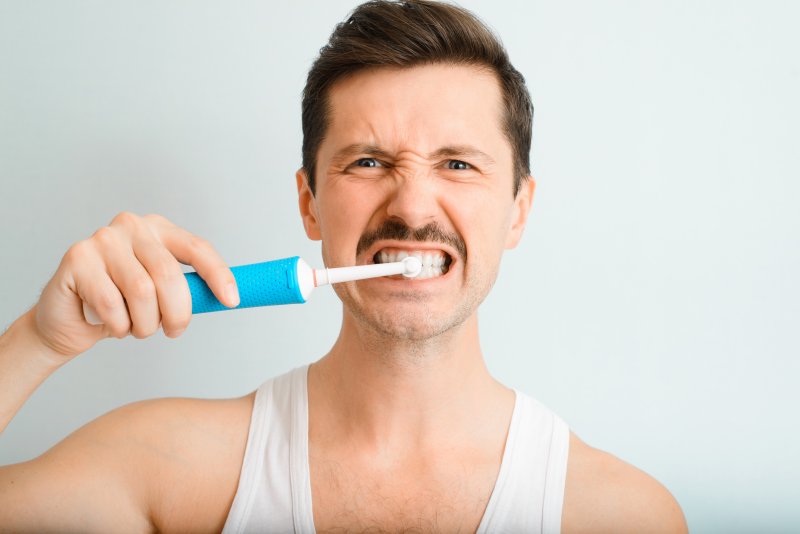 Many of us have been told to brush our teeth every day to keep our smiles healthy and clean. Not only can this ensure your pearly whites stay shiny, but you'll also help prevent bacteria from growing and spreading to other parts of your body. However, this doesn't mean you should brush too hard, as this can do some damage to your teeth in the process. Keep reading from your dentist in Chaska about the negative effects of overbrushing and how to properly clean your smile!
What Happens When You Overbrush?
Brushing your pearly whites too excessively can increase your risk of toothbrush abrasion, which is detrimental to your teeth and gums. By doing so, you can gradually wear down your enamel, damaging your smile and causing it to be more sensitive. Your gums can also recede, exposing more of the root area, which can lead to more serious dental issues like cavities on the roots or gum disease. If left unchecked, these conditions may require treatments like fillings, root canal therapy, or tooth extractions.
The type of toothbrush you use is also important when cleaning your smile. Many people at risk of overbrushing are those who scrub their pearly whites with medium- or hard-bristled toothbrushes, which can damage your enamel over time. You can also be vulnerable to excessive brushing if you clench/grind your teeth or have a genetic predisposition to receding gums.
The Proper Brushing Technique
Since it doesn't take much to remove plaque from your smile, the only thing you should consider is to brush your teeth thoroughly and consistently. Other than cleaning your pearly whites for two to three minutes, here are several other tips for brushing properly:
Use soft-bristled toothbrushes to avoid damaging your enamel and gums.
Place your toothbrush at a 45-degree angle so you can reach and clean your gum line.
Scrub back and forth in tooth-wide strokes, making sure to clean each spot gently. If you have a powered toothbrush, then you can easily let it do all the work.
Work slowly and only apply enough pressure to feel the bristles on your gums.
By practicing these few tips, you can be sure to keep your teeth clean and safe while avoiding toothbrush abrasion. And if you have any questions along the way, your dentist will be glad to help and provide a checkup for your smile!
About the Author
Dr. Mark Stapleton is a proud affiliate of several organizations such as the Academy of General Dentistry, and the American and Minnesota Dental Associations. He studied at the University of Minnesota School of Dentistry and has been delivering high-quality care for over 15 years. He offers a wide range of advanced treatments, including dental checkups/cleanings, gum disease therapy, and restorative dentistry to keep you on track with great oral health. If you'd like to schedule an appointment, feel free to visit our website or call 952-448-2868.
Comments Off

on Am I Brushing My Teeth Too Hard?
No Comments
No comments yet.
RSS feed for comments on this post.
Sorry, the comment form is closed at this time.